Gefran
TK Pressure Transmitter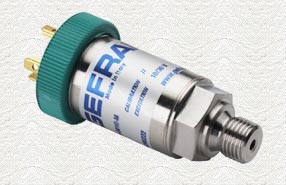 Thick Film Pressure Transmitter

Designed for industrial applications, pressure monitering and control where signal must be transmitted over a long distance . Typical applications include the HVAC & refrigeration or any application that requires signal generation over long distances. The Transducer uses a Thick film on steel strain gauge sensor for high stability and accuracy.

Voltage Or Current Output
Pressure range from 0-2 to 0-500 bar.
Pressure range from 0-1000 to 0-7500 PSI.
Thick film on Steel strain gauge sensor

< .5% FSO error
All wetted parts Stainless Steel Construction
IP65 & IP67 Enviroment Protection

The TKG Sensor is perfectly suited for remote application with low pressure requirements. Output is avaliable in Voltage or Current outputs. Heavy industrial applications. Click here for Techniquical Bulletin!
BACK TO THE TOP


Click Here to Request Applications Assistance
Return to our Home

(901) 452-4516


This page was designed and is Maintained byRichard Jordan
If You Have Any Questions or Comments E-mail me at My Home


Copyright 2000 Thermal Equipment Sales Co. Inc.